Citizen Bush still noble at heart
During President Bush's 8 year term we had gotten use to him quietly accomplishing monumental tasks that kept the media befuddled and frustrated. Amidst a storm of zealous reporters who criticized his every move and pundits who questioned every decision Bush still pulled off some really powerful political moves. But it is the little things that went silently by that would be to the average citizen a hallmark accreditation of a great dare I say grande human being. Had you and I known that the man, George Bush personally called each family of our lost brave men and women to console and comfort them what would we have said? Did we give credit for the little mentioned episode where Bush let slide the juvenile exodus of the Clinton staffers who damaged government property by removing the 'w' from White House key boards and other damage. The hugs for those who were near ground zero, hugs for wait staff, doorman and kind genuine words to people that by all rights were so far below him. To George Bush these were people, real people and he was one of them as far as he was concerned. The only difference is that he was blessed by God for the honor to serve as leader to what he considers the greatest country on earth with the greatest people.
The media never picked up on those things and for good reason. Had you and I been treated to the inside look of George W. Bush and his true passion for service he would have been so far ingrained into our hearts that no amount of hate on the 6 o'clock news would have swayed us. We would have seen the true person of George Bush, the one who did the right things even when no one was looking or reporting.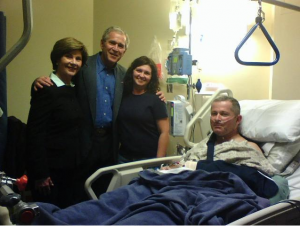 This care and concern did not vanish when he left office which seems now like 10 years ago. The media however still has a blind eye and refuses to shine any positive light on the man and I can only guess it is because they still hate him or fear the love that he so openly displays. Evidence of this came just a short time ago when President Bush and his wife Laura took it upon themselves to pay a surprise visit to the wounded service men and women from the Fort Hood tragedy. I'm sure Mr. Bush didn't pick up the phone and announce to the media his intention but you can bet that the wolves in reporters clothing knew all about the man they stalk for any misstep he may make but decided not to make mention. Had this been any other leader, oh say someone making a midnight run to view our lost soldiers in caskets being off loaded from a plane, that would constitute front page news and all the drooling accolades fit for a king. That has not been Bush's style and nothings changed since he left office.
George Bush as leader of the free world was a man head and shoulders above the fray and today as a private citizen he shows that same dignity to the office and to his fellow Americans both great and small. The United States of America was truly blessed to have such a leader and we the people are also fortunate to have such a man as an example, George Bush a citizen still nobel at heart.
Comments
Leave a Reply