Citizens Profile: Impressions on the heart
President Bush has touched so many of our lives in many ways. Citizens Profile takes you into those lives.
Etta Hinesley
Elections have always been a big deal to me, but the election that took place between Al Gore and George W. Bush was one that I will always remember. Sure, like everyone, because of the "hanging chads" but for me that election took on a new meaning. I am a Republican but I truly look at the candidates as individuals in a race. I totally connected with the faith of George W. I spent much time in prayer about the outcome and at the time I didn't really understand why this election had put me on my knees.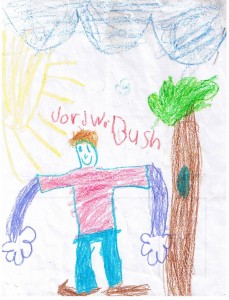 One day after spending some quiet time in my room, I came out to find my daughter Heidi ( who was seven) sitting at her desk with a picture she was coloring. "Wow", I commented, "that guy has some really big arms and hands".  Without looking up she said, "He has big arms and hands because he has a big job." "Really,..who is it?" I asked. She took her crayon and wrote over his head ….Jorj W. Bush. I laughed at the spelling but my heart was drawn to the intensity of her voice. As if she had some understanding at seven about what was soon to happen. 911
   When you are a single mom, you feel the weight of the world is on your shoulders to be able to wear all the hats that it requires to get four kids to school, dance, church, games, help with homework, provide a home, food, clothes and not to mention entertainment. After 911 I was also concerned about the safety of our schools, malls, even churches with terrorist here on our soil. It was overwhelming to watch that plane fly into the second tower and the pain our nation felt for the families. I watched the coverage with a sickness in my heart, but when our President, George W. Bush spoke to the nation that night, I saw that he too was in pain, but what I really saw was a man that had big arms and big hands because he had a really big job to do.
   As the years past by and we got further away from 911, I think it was easy for us to forget the terror that we felt that day. With every speech, every state of the union address our President Bush reminded the terrorist and the nations that gave them shelter that we would not falter or fail in our quest to get them.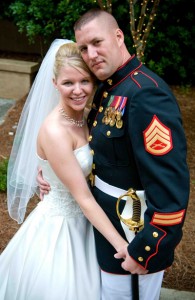 Nothing can bring that to life for you like having your beautiful daughter come to you and say, "Mom, I think I am going to join the Marines." In my mind, I'm thinking, "Are you nuts… join the Peace Corp.. anything but the Marines." But with my mouth, I say, "Why do you want to join the Marines?" Her answer was quick, " I really believe that God is calling me to do it". I can only say that it is at time like that, you know, that it means everything to have a Commander in Chief who is in touch with the King of Kings and Lord of Lords. On January 23, 2007, I said good bye to my beautiful Marine as she was getting on a plane bound for Iraq. She was a Lance Corp when she left and received a NAM award while she was there for enhancing the security at Camp Fallujah by revamping the system for securing badges on base. She was assigned to a Lioness team while in Iraq. This is a group of female Marines who go out on a mission with the male Marines. On February 11, 2008 I watched her get off the bus at Camp Le Jeune, NC, and run into the arms of her fiance Marine Staff Sargent Ross Wafler, who also has served two tours in Iraq. Yes, I still thank God every day that we had a President that knew what he was doing when he made the call to go after the terrorist. He knows the value of the lives that go to war and the price they pay for us to live in peace. President Bush was called for such a time as this.
 
  That's my story. I am a Registered Nurse and work as a Complex Discharge Planner for the Medical Center of Central Georgia. I live in Warner Robins, Georgia. My oldest child is Brittani 27, a school teacher in Melborne, Fla married to Clayton Bluhm, an engineer with Northrop. They have a two year old, Xander, who of course has my heart. Caleb is my son, 23 who teaches guitar to about 30 children, and loves playing praise and worship music at church.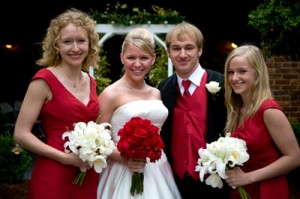 Sidni is my Marine 22 and is working to make SGT in the Marine Corp in March. She and Ross were married in April when she returned home from Iraq. Ross has a seven year old son Aaron who is my awesome grandson. Heidi is my 15 year old in her first year of high school. She is the artist. The last eight years were difficult at times for our family and for many families across the country, There are thousands of stories out there yet to be told, but as for me and my house, we have been able to sleep at night knowing that with W. in the White House, we were safe from terrorist at our house.
SGT Christopher Cain
I had the pleasure of meeting President Bush in Charleston WV in February of 2001.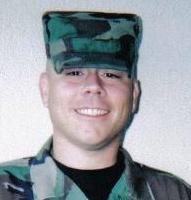 I had accompanied MSG David Eshbaugh (we all called him Esh for short), whom I served with at the 167th Airlift Wing in Martinsburg WV, to the Presidential Visit to Yeager Field. MSG Eshbaugh greeted President Bush at the stairs of Air Force One (the smaller one, they can't land a 747 at Yeager Field).
Prior to our visit, MSG Eshbaugh and the members of the Audio/Visual crew had made up a framed and matted photograph for the President of his Basic Training Graduation back in 1968. Then Airman Eshbaugh and Airman Bush shared the same dorm at Lackland AFB in San Antonio Texas. MSG Eshbaugh had told me of several conversations he had with Airman Bush back then. See, as I understand it, early in his military career, President Bush was in a leadership position. From the stories I've heard from MSG Eshbaugh, the then Airman Bush was his dorm chief.
One day, according to MSG Eshbaugh, he was growing weary of basic training and wanted to call it quits. Airman Bush sat him down and explained to him what a mistake that would be and said that the flight will need him. He told him he was a valuable member of a team and that he wished Esh would reconsider. Of course, Esh did and the rest is history.
We got on the C-130 in Martinsburg and flew some 45 minutes and landed in Charleston, where we witnessed his speech and later met him.
I found this excerpt of the Presidential visit to Charleston on the White House website.
President Bush: "Finally, I don't want to embarrass the fellow, but I'm going to. In 1968, July of '68, I was stationed in Lackland Air Force Base, San Antonio, Texas."
Audience Member: "Hooah." (Laughter.)
President Bush: "You don't sound old enough to have been there." (Laughter.) But today when I got off the airplane, MSGT David Eshbaugh, from West Virginia, was there to greet me. He and I shared the same dorm in Lackland Air Force Base, Texas. David, I want to thank you from the bottom of my heart for greeting me at the foot of the stairs when I got off the airplane. And thank you for your service, too."
After he spoke, we got to meet the President back stage. This is when I got to shake his hand. You know, the man has a certain presence that can't be described in words. Esh presented him with the picture. I remember President Bush was so grateful. I thought, here he is, the leader of the free world and he still has time to meet and talk to old friends.
President Bush took MSG Eshbaugh's hand to shake it. He leaned into Esh and said "You know Esh, sometimes I wish I had stayed in and made a career out of the Air Force". Esh, with his dry sense of humor looked at President Bush with a straight face and said "Just think Mr. President, by now, you too could be a Master Sergeant."
The room erupted with laughter. President Bush shook his head and he laughed out loud.
What an experience! I not only got to meet "the boss" but, I found out he was a regular guy at heart.
This was of course, prior to September 11th.
After September 11th I was deployed to Iraq as a Medic. After my service, I returned to the US and went back to work at the Unit. I then transferred my Enlistment to the Army National Guard where I continued to support the War on Terror. In Aug of 2007 I had a heart attack while training which ended my Military Career.
Why am I thankful to President Bush? I am so thankful that we had a man with the vision and fortitude to see our country through it's darkest hour. I am thankful that he conveyed the kind of leadership that inspired many like myself to go forth and serve this great nation in these troubled times. You know, I've heard many people in the media and what not, talk down about President Bush. I NEVER bought into the media hype. It use to really irritate me when the media would talk down about him. I guess I'm a little biased, I saw the man, I shook his hand and looked into his eyes and saw not a Republican or a Democrat, I saw a man who had this Nation's best interest truly at heart. Given the fact that we are still living in a Nation that is Free in the light of a War brought to these shores by those who would like to see our Nation die, and the fact that we are winning the War on Terror, speaks volumes of the leadership President Bush gave to this country.
Comments
Leave a Reply