Safe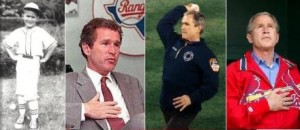 President Bush is a huge fan of baseball. He could often be seen throwing out the first pitch on opening day. A long tradition with U.S. presidents which he was happy to carry on. Bush loves the game and is an avid baseball card collector. George Bush is the only president to have played little league and is the former owner of the Texas Rangers. Although Clinton was the first to get the ball from the mound to the plate, no one had better form than George W. Bush.
"I don't know how I fell in love with baseball, I just loved to play it. Everyone who loves baseball can remember the first time he saw the inside of a real major league park with real big-league players. It stays with you forever – the greenness of the grass, the sight of major leaguers in uniform, the sound of a big-league swing meeting a big-league pitch."
It's no surprise to me that George Bush loves the 'All American Game'. Baseball and apple pie, simplicity, get out there and get the job done. That's what we all saw in Bush and he is as down to earth as you can get. Americans tend to appreciate such qualities in a leader.
That's also why it was no surprise that after the attacks of 9-11 our president, took to the mound as our team captain and without hesitating, threw a strike. Americans everywhere knew this was a new era, an opening day of a game we could not afford to lose. The towers were already down and hidden dangers loomed everywhere but we knew when he took to the field. We were 'safe'.
Comments
One Response to "Safe"
Happy Anniversary America | ThankW.com Says:
January 17th, 2010 at 8:01 pm

[...] elitist. We cheered and welled up with pride and confidence as we watched our George throw out the first pitch in a World Series game or hug a hurting citizen. We drew hope and inspiration when he spoke to us. Our darkest days at [...]
Leave a Reply