Sign the Thank You Letter
Dear President Bush,
         It is with the deepest  admiration and highest respect that we, the people, express our gratitude.  For your service over the many years and especially these last eight as our president and as leader of the free world.
          Leaders seldom swim with the stream and are almost always critiqued much harsher than anyone else. The truly great ones however are those who stand firm on their principles and never waiver from the solemn commitments they are entrusted with. You sir are among those great leaders. While  many others of position and power caved as the storm clouds grew on the horizon, you Mr. President stood tall and faced the winds of doubt and uncertainty with your undying belief in the good this world still has to offer.  Often times it must have seemed that you were all alone. That no one person stood with you. Even if that were true you never once flinched in serving those who were now nowhere to be found. With unthankfulness as reward you strove each day to ensure our protection, prosperity and hope for the future. Undaunted and steadfast, your legacy will include the reverance of so many Americans who have come to realize the magnitude of your service.
         We say  thank you  Mr. President. Perhaps not in a way befitting to the level you deserve but maybe in a way that only a nation can. When our children and our grand children ask us about those periolous times and how we made it through. We can simply smile and say, "Thank W".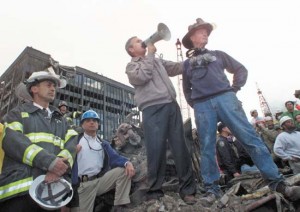 Please sign and comment below
2,163 Responses to "Sign the Thank You Letter"
Pages: « 1 … 34 35 36 37 38 39 40 41 42 43 [44] Show All
Pages: « 1 … 34 35 36 37 38 39 40 41 42 43 [44] Show All
Leave a Reply