ThankW Stickers Now Available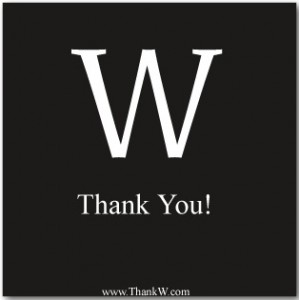 We have all shown our appreciation to President George W. Bush through signing his Thank you letter. For those wishing to extend their appreciation we now have stickers available for a 2.00 donation. All proceeds go directly to helping our letter make it all the way to the George Bush Presidential Library & Museum.
Thank you in advance for all your help. We know you will be proud to drive around and show off your appreciation for George W. Bush.

Join the forum discussion on this post - (4) Posts
Comments
3 Responses to "ThankW Stickers Now Available"
Louise Marone, Florida Says:
February 1st, 2009 at 7:22 pm

Dear Mr. President George W. Bush: It probably was one of my great experiences (politically) when you were elected in 2000 and again in 2004. God allowed you in the White House, and looking back we know that is was to hold this country together during the horrors and hurts of Sept. 11, 2001.
God wanted a praying man in the White House, and you were His choice and mine. Even though I did not vote for now Pres. Obama, we will be praying for him to get his wisdom from God and the courage to stand for those convictions. Pres. Obama said "he prays to Jesus" in an interview with Christianity Today magazine last year, and our pray is that he will seek first the Lord in all the many decisions he will face. God bless you Pres. Bush, God bless Pres. Obama, and God bless America, and as I prefer to say. AMERICA, BLESS GOD! THANK YOU FOR BEING OUR THEN PRESIDENT…..someday I hope to shake your hand….

Darren Perkins Says:
February 2nd, 2009 at 10:16 am

Dear President Bush,

The more the media ruthlessly persecuted you, the more I appreciated you. Number of attacks on American soil after 9/11/2001: Zero. Thank you!

Dawn Says:
February 12th, 2009 at 1:35 am

Dear President Bush,

I just would like to take the time to say thank you for your years of service to this fine country. It is very reasuring to know that their are extrodinary human beings like you and Mrs. Bush on this earth
Leave a Reply