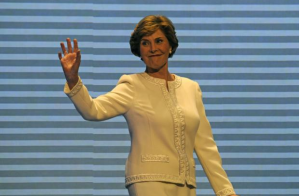 Recently I had the privilege of attending a "Get Motivated" seminar in Orlando Florida. The speakers were none other than Zig Ziglar, Rudy Gulianni, Terry Bradshaw, Colin Powell and Laura Bush just to name a few. The enthusiastic crowd was all cheers for these people and the information and stories were great.
Principles of life were brought up and actually applauded which for some reason surprised me. Things such as staying faithful to your spouse, believing in God and making no excuses if for some reason (of your own doing) you are a loser at this time in your life.
As I looked around the crowd I couldn't help but think what will they do when Laura Bush is announced as the next speaker? Would they boo or just give a polite welcome? The way this crazy world has gone so gaga for Obama and his wife as if they would restore our country to the days of Camelot I wasn't sure. It seems that the masses want to be ruled by a king these days and are satisfied with just being minions instead of freedom loving patriots who have spirit and a zest for life.
To my delight Mrs. Bush was announced and the entire convention center erupted in the loudest and longest standing ovation, more than even the Mayor of New york received. Camera's flashed and popped from every angle and the excited mass welcomed in their First Lady in a way an adoring crowd would a queen. It was truly gratifying to know that other Americans felt for her what I have and I know she saw it too.
Her speech was not so much a motivational one as we had been treated to all day. She spoke of the horrific day of Sept. 11th of course but focussed more on the Sept.12th world. The day after the events that changed our world for not only then but forevermore. She described being ushered down into a basement bunker when it was reported that another plane had wandered too close to the White House and how she and her husband were thankful to be safe but wondered and prayed about the rest of the American people. She saw the change in her husband, our president George Bush. The man that up until that point was always quick with a joke and had a wit that would charm anyone. He had changed with the dawn of Sept. 12th, his mission and focus took a whole different direction with a determination that perhaps only she and a few others could see fully.
She spoke of the families of the fallen and how George Bush personally called each of them offering his love and prayers with thanksgiving for their service and sacrifice. She described the strength he needed to get through and how he leaned on his faith often. She heard the criticism at the time and she knew George did as well but her quote was;
"It bothered me, but it didn't get to me."
At this point there wasn't very many dry eyes in the building and it was only at the mention of President Obamas name and how there was no applause that I realized there were no boos or cat calls with her explanations of President Bush and his actions during those times.
I began to wonder then and even now, is the tide turning and the hatred for our 43rd president beginning to melt away? Are people coming to the realization of the greatness this man achieved or is it something else? Could it be that our current leadership is so out of character of what America stands for and their power grab so far over reached that even the most ardent Obama supporter has come to the place where he can at least appreciate what George Bush did for this country?
That may be a difficult question to answer for now but you for sure won't get the answer from Mrs. Bush. She simply stated her position and wasn't campaigning for a thing. Like it or not, agree or disagree she saw it first hand and that was what she was there to tell you in her elegant and heart filled way. She offered up no criticism for Obama either but only wished him well in the office he now holds and encouraged us all to pray for them and for our great country. It's no wonder she got another huge ovation as she thanked us and walked off the stage. America loves this grand First Lady, Laura Bush is all class.