We here at thankw.com would thank Mr. Chip Morris and Mr.PC of the Drive Time Happy Hour radio show. In fact it was their show that sparked the idea for thankw.
Chip and PC fill the airways every afternoon from 3 till 6 with conservative thoughts, sanity, morals and uncommon common sense. Sprinkled with zany callers and razor wit makes it the funniest show you'll find either on the radio or streaming on the web.
Each day is a treat but Wednesday is one of the more popular. 'Whack job Thursday' is a close 2nd. You see, Wednesday is 'W' appreciation day. Everyone who calls on that day has to begin their rant or comment by saying something good about President George W. Bush. If they don't they just might hear a dial tone. 'Lefties' as PC calls them squirm a bit but eventually muster out, oh, something insignificant like "ok, he's kept us safe for 7 ½ years". Undoubtedly the next word is always 'but' and they back peddle like crazy to undo the truth that's so foreign to their lips. The rest of the callers always seem to give heartfelt insight as they praise a man whom they've never met but who has touched their lives in such a personal way.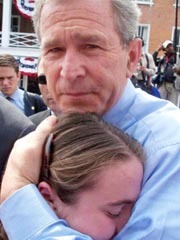 George Bush is not perfect but it is in that imperfection we find his deep caring, humbleness, courage to stand and willingness to serve. There is something so wonderfully human about George Bush that we all can identify with; we have cried with him, laughed with him, worked and stood with him, raised mighty fists united with him against the tyranny that would destroy us. We have prayed with him and believed in the goodness of mankind and the power in truth and right. These are things we did as imperfect people because one man cared enough to stand. Everyday should 'W' appreciation day but for now I look forward to Wednesdays.
Won't you join us as we offer a small token of thanks.
Log in, sign here and post your comment.
Thank You President Bush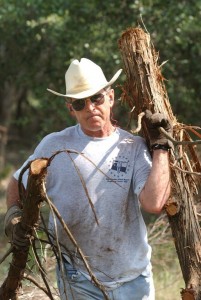 I always wondered why the press would hound George Bush so on whether or not "he made any mistakes." They seemed relentless and used every trick in the book to trip him up, yet he wouldn't say. In his exit he did acknowledge a few but they still seem to need more. Perhaps to validate some perceived failings while they begrudgingly throw some credit his way. Maybe they can't concieve of a man who would stay so steadfast and unmovable on what he believes is right. Those kinds of morals tend to drive the liberal left nuts.
The truth of the matter may be pretty simple and way too boring for this elitist pack of wolves. Bush was right. He wasn't backing down from his convictions regardless of how wrong it all seemed at the time.
Just look at his accomplishments that were at one time called mistakes.
Iraq–I believe they just voted for the 2nd time and all the smart people are saying we Won!
Tax Cuts– If you're in the 10% range would you like to be in the 15%? You will be if they go away.
No child left behind– Scores are up and finally there are consequences for failing schools.
52 weeks of uninterrupted job growth–Not bad considering he inherited a recession from Clinton and had Sept.11th to deal with.
Still the media is not satisfied and would like you to be unsettled as well. You shouldn't have this love and admiration for a man who doesn't speak well, who gets dirt under his finger nails on a 'ranch'; who is this man to connect to the common folk? You people are suppose to believe everything we shovel your way. He's made mistakes by God and we're either going to expose them or just make them up! and don't you dare question us!
Perhaps Obama should've 'watched some film' on Bush like a football team does BEFORE the big game. He may have seen the tendencies of a confident,courageous man standing by his convictions and that the cold bitter winds of favor are harshest when you turn your head around. He might have picked up on the stoic way in which a leader leads without regard to the rabid fanatics on every side. Doing your laundry in public is not such a great idea and it won't cleanse you in the eyes of the great unwashed. It creates weakness and weakness creates fear. Enemies see that, opponents smell it. Defeat is the end result.
Only two weeks in and Obama is starting to look unfit, not up to the task at hand, 2nd string at best. Not good when you're the leader of the free world.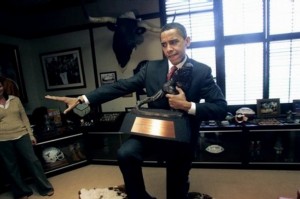 If Obama is to succeed he'd be wise to look at what his predecessor has done and quitely imitate him. Take the ball and make good decisions, move down field. Penalties will stop any drive so play inside yourself. You haven't won the game yet, you haven't even scored. It's a long hard game with no trophies in the end, barely a pat on the back. It's the same enemies and wolves you face as Bush did. It's 2nd down and 20 now.
This is where the playbook gets a little thin.
President Bush has touched so many of our lives in many ways. Citizens Profile takes you into those lives.
Etta Hinesley
Elections have always been a big deal to me, but the election that took place between Al Gore and George W. Bush was one that I will always remember. Sure, like everyone, because of the "hanging chads" but for me that election took on a new meaning. I am a Republican but I truly look at the candidates as individuals in a race. I totally connected with the faith of George W. I spent much time in prayer about the outcome and at the time I didn't really understand why this election had put me on my knees.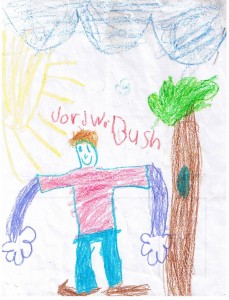 One day after spending some quiet time in my room, I came out to find my daughter Heidi ( who was seven) sitting at her desk with a picture she was coloring. "Wow", I commented, "that guy has some really big arms and hands".  Without looking up she said, "He has big arms and hands because he has a big job." "Really,..who is it?" I asked. She took her crayon and wrote over his head ….Jorj W. Bush. I laughed at the spelling but my heart was drawn to the intensity of her voice. As if she had some understanding at seven about what was soon to happen. 911
   When you are a single mom, you feel the weight of the world is on your shoulders to be able to wear all the hats that it requires to get four kids to school, dance, church, games, help with homework, provide a home, food, clothes and not to mention entertainment. After 911 I was also concerned about the safety of our schools, malls, even churches with terrorist here on our soil. It was overwhelming to watch that plane fly into the second tower and the pain our nation felt for the families. I watched the coverage with a sickness in my heart, but when our President, George W. Bush spoke to the nation that night, I saw that he too was in pain, but what I really saw was a man that had big arms and big hands because he had a really big job to do.
   As the years past by and we got further away from 911, I think it was easy for us to forget the terror that we felt that day. With every speech, every state of the union address our President Bush reminded the terrorist and the nations that gave them shelter that we would not falter or fail in our quest to get them.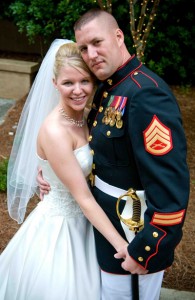 Nothing can bring that to life for you like having your beautiful daughter come to you and say, "Mom, I think I am going to join the Marines." In my mind, I'm thinking, "Are you nuts… join the Peace Corp.. anything but the Marines." But with my mouth, I say, "Why do you want to join the Marines?" Her answer was quick, " I really believe that God is calling me to do it". I can only say that it is at time like that, you know, that it means everything to have a Commander in Chief who is in touch with the King of Kings and Lord of Lords. On January 23, 2007, I said good bye to my beautiful Marine as she was getting on a plane bound for Iraq. She was a Lance Corp when she left and received a NAM award while she was there for enhancing the security at Camp Fallujah by revamping the system for securing badges on base. She was assigned to a Lioness team while in Iraq. This is a group of female Marines who go out on a mission with the male Marines. On February 11, 2008 I watched her get off the bus at Camp Le Jeune, NC, and run into the arms of her fiance Marine Staff Sargent Ross Wafler, who also has served two tours in Iraq. Yes, I still thank God every day that we had a President that knew what he was doing when he made the call to go after the terrorist. He knows the value of the lives that go to war and the price they pay for us to live in peace. President Bush was called for such a time as this.
 
  That's my story. I am a Registered Nurse and work as a Complex Discharge Planner for the Medical Center of Central Georgia. I live in Warner Robins, Georgia. My oldest child is Brittani 27, a school teacher in Melborne, Fla married to Clayton Bluhm, an engineer with Northrop. They have a two year old, Xander, who of course has my heart. Caleb is my son, 23 who teaches guitar to about 30 children, and loves playing praise and worship music at church.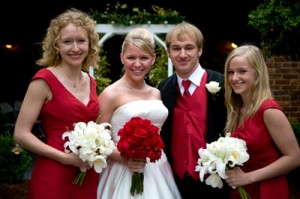 Sidni is my Marine 22 and is working to make SGT in the Marine Corp in March. She and Ross were married in April when she returned home from Iraq. Ross has a seven year old son Aaron who is my awesome grandson. Heidi is my 15 year old in her first year of high school. She is the artist. The last eight years were difficult at times for our family and for many families across the country, There are thousands of stories out there yet to be told, but as for me and my house, we have been able to sleep at night knowing that with W. in the White House, we were safe from terrorist at our house.
SGT Christopher Cain
I had the pleasure of meeting President Bush in Charleston WV in February of 2001.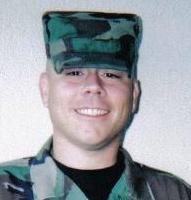 I had accompanied MSG David Eshbaugh (we all called him Esh for short), whom I served with at the 167th Airlift Wing in Martinsburg WV, to the Presidential Visit to Yeager Field. MSG Eshbaugh greeted President Bush at the stairs of Air Force One (the smaller one, they can't land a 747 at Yeager Field).
Prior to our visit, MSG Eshbaugh and the members of the Audio/Visual crew had made up a framed and matted photograph for the President of his Basic Training Graduation back in 1968. Then Airman Eshbaugh and Airman Bush shared the same dorm at Lackland AFB in San Antonio Texas. MSG Eshbaugh had told me of several conversations he had with Airman Bush back then. See, as I understand it, early in his military career, President Bush was in a leadership position. From the stories I've heard from MSG Eshbaugh, the then Airman Bush was his dorm chief.
One day, according to MSG Eshbaugh, he was growing weary of basic training and wanted to call it quits. Airman Bush sat him down and explained to him what a mistake that would be and said that the flight will need him. He told him he was a valuable member of a team and that he wished Esh would reconsider. Of course, Esh did and the rest is history.
We got on the C-130 in Martinsburg and flew some 45 minutes and landed in Charleston, where we witnessed his speech and later met him.
I found this excerpt of the Presidential visit to Charleston on the White House website.
President Bush: "Finally, I don't want to embarrass the fellow, but I'm going to. In 1968, July of '68, I was stationed in Lackland Air Force Base, San Antonio, Texas."
Audience Member: "Hooah." (Laughter.)
President Bush: "You don't sound old enough to have been there." (Laughter.) But today when I got off the airplane, MSGT David Eshbaugh, from West Virginia, was there to greet me. He and I shared the same dorm in Lackland Air Force Base, Texas. David, I want to thank you from the bottom of my heart for greeting me at the foot of the stairs when I got off the airplane. And thank you for your service, too."
After he spoke, we got to meet the President back stage. This is when I got to shake his hand. You know, the man has a certain presence that can't be described in words. Esh presented him with the picture. I remember President Bush was so grateful. I thought, here he is, the leader of the free world and he still has time to meet and talk to old friends.
President Bush took MSG Eshbaugh's hand to shake it. He leaned into Esh and said "You know Esh, sometimes I wish I had stayed in and made a career out of the Air Force". Esh, with his dry sense of humor looked at President Bush with a straight face and said "Just think Mr. President, by now, you too could be a Master Sergeant."
The room erupted with laughter. President Bush shook his head and he laughed out loud.
What an experience! I not only got to meet "the boss" but, I found out he was a regular guy at heart.
This was of course, prior to September 11th.
After September 11th I was deployed to Iraq as a Medic. After my service, I returned to the US and went back to work at the Unit. I then transferred my Enlistment to the Army National Guard where I continued to support the War on Terror. In Aug of 2007 I had a heart attack while training which ended my Military Career.
Why am I thankful to President Bush? I am so thankful that we had a man with the vision and fortitude to see our country through it's darkest hour. I am thankful that he conveyed the kind of leadership that inspired many like myself to go forth and serve this great nation in these troubled times. You know, I've heard many people in the media and what not, talk down about President Bush. I NEVER bought into the media hype. It use to really irritate me when the media would talk down about him. I guess I'm a little biased, I saw the man, I shook his hand and looked into his eyes and saw not a Republican or a Democrat, I saw a man who had this Nation's best interest truly at heart. Given the fact that we are still living in a Nation that is Free in the light of a War brought to these shores by those who would like to see our Nation die, and the fact that we are winning the War on Terror, speaks volumes of the leadership President Bush gave to this country.
Over the last eight years Americans knew they had an able bodied leader at the helm. Faced with many challenges he always exuded and inspired confidence. When the Chinese held captive some of our citizens early on in President Bush's administration, sure there were some tense moments but no lack of confidence and the people were soon set free. North Korea rattled it's sabers with nuclear ambitions and while everyone was aware, I don't remember widespread panic. Captains of industry were caught fleecing Americans but under Bush's watch they are serving time in jail where they belong. When our own planes were hi-jacked to bring down the very symbols of our financial strength and killed over 3000 of our citizens, you and I looked to one man for confidence and direction in our grave time of need.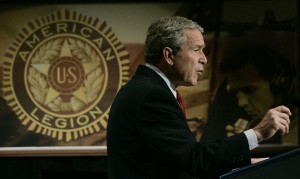 When the world gathered with collective consensus about Saddam Hussein and his weapons of mass destruction. Every major world leader agreed and every United States politician who chimed in and touted the need to remove the dictator by any means possible. The American people also agreed and were united in support to rid the world of this danger.
After 17 meaningless resolutions it was no surprise to anyone what was to come and no one at that time was willing to do anything except George W. Bush. I don't remember anyone chiding the choice then. The media hyped up the perils of war predicting the need for 50,000 body bags and to prepare for a long protracted conflict. The eve of the "shock and awe" did bring tensions to us all as we watched war unfold before our eyes on TV. Those tensions were short lived as our military and our president made short work of the initial conflict.
Time and the media has chipped away at our confidence in Bush yet it's still an inescapable truth. With the markets up and down it only takes a few positive comments from Bush and they rise. Our military men wax confident with each surprise visit and each mention of support in speeches that are seen and heard around the world. Even in the deepest darkest caves where our worst enemy is (or at least has been) damned to live in darkness and necessary incarceration. Yes our confidence level has been constant over these last eight years and something all Americans could count on regardless of the situation.
Enter Obama; Since his election the American people have been all over the board. Happy, hopeful, fearful, unsure, not ready and confused. This is not surprising, Obama himself has given cause for doubt with his own words and flip flopping on issues. Once so sure of the economic prosperity that would come on Jan 20th, 2009 he touted his plans only to change his words to a sober reality.
Obama said. "It will take longer than any of us would like — years, not months. It will get worse before it gets better."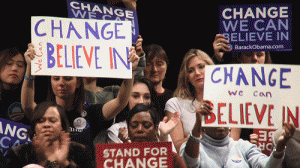 Obama also said he would bring the troops home, close Gitmo, "change" from politics of the usual. Nothing so far, nothing, has even showed a glimpse of what Obama has talked and boasted of. Even the stock market was down sharply and plunging deeper as he was being sworn in on Lincolns Bible at his 150,000,000.00 extravaganza. Polls show an 83% approval rating as Obama enters but according to the blogosphere and the extreme liberal left who feel they put him in office, confidence levels are very low. No one on that end is happy for the two sides of Obama. No one except the media. They have been in an orgasmic state for two months and it culminated today. We the people have been treated to dog choices, wardrobe, family history and empty words of how the world will now be with our new savior at the helm.
This false sense of approval is no confidence. It won't be long before those who've "paid" the bills will come calling wanting what's due. Approval will wane and the lack of confidence will be apparent. There will be no constant as in the last eight years. It's not possible given the many directions Obama has proposed to take or not to take. In his speech today Obama referenced the Bible. " It's time to put away childish way's" referring to being bipartisan.
I have one you may be interested in as well.
A double minded man is unstable in all his ways. (James 1:8)
Today President Bush gave his last televised speech. His farewell address to the nation. It was obvious that there were emotions bubbling beneath the surface but he handled it with his usual dignity.
He spoke of 9-11 and he recalled standing on that pile of rubble, from that day forward he vowed to do his utmost to keep us from further harm. With time many Americans have for the most part dismissed those days as if they were in a forgotten page of a history book. Not our president. To this day he still carries the badge of a police officer George Howard who was killed that day.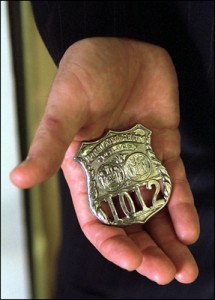 Bush also said. " In terms of the decisions that I have made to protect the homeland, I wouldn't worry about popularity. What I would worry about is the constitution of the United States, and putting plans in place that makes it easier to find out what the enemy is thinking. Because all these debates will matter not if there is another attack on the homeland. The question won't be, you know, were you critical of this plan or not? The question will be why didn't you do something"?
It's been 7 years since those tragic days and I remember thinking, where will the next strike be? Will that odd chart on TV tell me the threat level has risen higher? Will the world ever return to normal? Am I witnessing now, in my own country what I used to only see on the news of far away places? We all remember where we were that day,( if we think about it anymore) what we were doing when it came across the screen. The numbness that followed, disbelief, doubt. When the realness set in and fear began to grip our thoughts like a fast growing vine around a post. We turned to one man. As a nation we set our eyes upon him and as a family we bound together in determination and hope. We did so at the direction of our president. A man who vowed to never forget and to do his utmost to see this never happen again. He has done that.
As he said in his speech he now is taking the role of a proud citizen but he's far more than that. History will smile on him as well as you and I when we look back years from now and see the tremendous danger he's kept us from. Hindsight will be kind to this man and perhaps allow all of us to glimpse some of the daily perils we faced. Something Obama is only now seeing in his briefings.  As Bush said in closing "God Bless America and God Bless the next administration".
Well after eight years of ridicule, mockery, accusations, unfair coverage and negative scrutiny President Bush speaks out. This was to be his last press briefing and I suppose he wanted to share whats been long on his mind.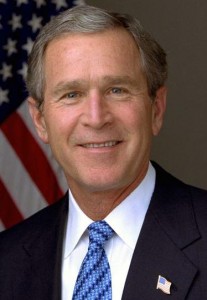 I'm no psychologist but it is obvious for anyone who saw this briefing or read the transcripts that all these issues have weighed heavily on him all this time. He spoke with passion about the country and it's mindset right after 9-11. With equal vigor he asked us to recall the environment around the White House in those days. People being hauled up before congress and grilled on "why they didn't connect the dots".  How the critics went from standing together to partisan bickering and finger pointing. " I remember those days" he said with a sober tone. President Bush's mandate at that time and indeed to this day has been to protect this country and rather than sit and do nothing he has taken action. Actions that every American should be thankful for but instead he has been lambasted by the liberal left and the elite. With the help of the media those perverted views have permeated to the average citizen and now it seems only a remnant see clearly the dangers we've avoided with the man who has lead us. Bush who until today held his tongue against his critics stood with his face against the darkness unwavering in his commitment. Can the same be said of Harry Reid? Perhaps Ted Kennedy stayed up all night worrying and in prayer? Surely Michel Moore,Ted Turner, Dan Rather, Nancy Pelosi, Hilliary Clinton and even Obama himself all gathered in support and stood in lock step with this man to ensure my freedom and yours. Sadly no, they all have fought tooth and nail to bring doubt and uncertainty to the brilliant moves made by President Bush. "fake but accurate", "the war is lost",  "Bush harmed the country", "our moral standing is lost". Ranting and raving is not action. 
There are those in history who have faced equal or greater odds. Books are filled with these legacies both failed and true. One book has not been written yet but the ink wells are poised and as time passes they will be emptied onto the pages of  George Bush's legacy. If it were written now perhaps the first line would be.
"You and I are safe tonight because one man stood".
George W. Bush.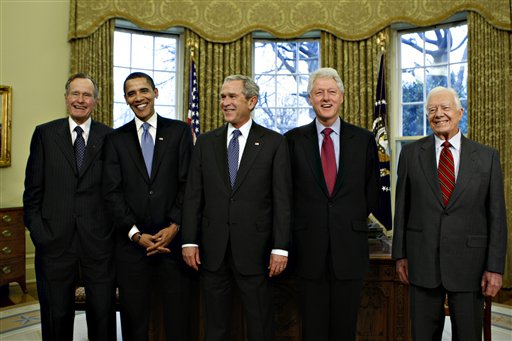 While the clamors for change and to restore our good standing in the world keep coming from the left. President George W. Bush keeps handling situations the same way he always has. With class. They'll be no missing 'O' buttons on keyboards, no vanishing silverware from Air Force One as he leaves office along with the staff. In fact Mr. Bush has been more than accommodating to the incoming president and his team. They have even credited him for it.
"President-elect Obama thanked President Bush for his commitment to a smooth transition, and for his and First Lady Laura Bush's gracious hospitality in welcoming  Obama to the White House."said Stephanie Cutter, spokeswoman for the Obama transition office.
This should come as no surprise seeing that he has always treated others in office with dignity and respect. Senator Hillary Clinton is the only sitting senator with her portrait in the White House. George Bush put it there. He also unveiled former President Bill Clinton's portrait that day, Bill was quite happy.
 "The president, by his generous words to Hillary and me today, has proved once again that in the end, we are held together by this grand system of ours that permits us to debate and struggle and fight for what we believe is right," Clinton said.
Bill and Hillary have since trashed him again and again and Obama has also said many 'unflattering' things since the election. Bush also bent over backwards to honor Ted Kennedy and the Kennedy family. Renaming the Justice dept. to honor Robert, Ted's brother, seeking Ted Kennedy's input and support on such domestic issues as education, prescription drugs, immigration etc. Ted was so happy to accept an invitation to the White House for a private movie based on the Kennedy's. Still old Ted has never stopped excoriating President Bush, so much so that George Bush Sr. asked him to tone it down. The list goes on and yet everyone that the President has been kind to has turned to bite him. President Bush has not turned in kind, instead has held the dignity of the office as his guide in handling each of these disappointing actions of the liberal left.
It seems that the left is all so eager to hear President Bush's praise and can't get to the isles fast enough during the State of the Union address just to shake his hand with huge genuine smiles as cameras snap photos. While big movie stars and singers are happy to receive millions to help those with aids in Africa (more than any other President has ever done).When all the country was lost after 9-11 and looked to him for guidance, support and leadership. When every major leader agreed (at one time or another) even espousing to do the same as he did or more about Saddam Hussein. They all have turned like dogs to eat vomit lowering themselves and bringing disgrace to our political system.  George Bush has not done so but continues to be gracious.
President elect Obama will face many challenges, he has been finding out about those in the past few weeks from meetings with President Bush. He seems to have sobered some with this new information so perhaps his rhetoric will soften or even (dare I say) 'change'. Somehow I doubt it. Even so President Bush invited Obama to the White House today along with former presidents Clinton, Bush Sr. and Carter. He didn't have to include these men but he did. Out of respect for the former presidents and for the incoming President Barack Obama.  To show Americans and the world that we, the United States of America support our leadership and stand for one cause.
Respect and honor in transition and in serving. Let's hope President Elect Obama has paid attention.
As one may have conceived Obama's notion to cross the river and swim in Republican waters uncharted by Obama and his colleagues is one ship that never left port. As he continues to stack his "dream team" with thin resume radicals.
Obama's choice of Leon Panetta to head the CIA is one of those prime examples.
"I was not informed about the selection of Leon Panetta. I know nothing about this, other than what I've read," said Dianne Feinstein, D-Calif., who will chair the committee in the 111th Congress. "My position has consistently been that I believe the agency is best-served by having an intelligence professional in charge at this time.
Michael Scheuer, a 22-year CIA analyst who worked in tracking Osama bin Laden, likened Panetta to a "political hack"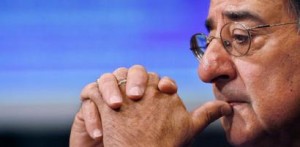 Obama aides claimed he hoped to choose someone with extensive field experience, particularly with the looming threat of terrorist attacks and activity.
To add to the fire Panetta said under no circumstances should torture ever be conducted! We are dealing with Terrorists who's only purpose in life is to destroy the United States!
You're going to tell me that these people don't need to be throughly interrogated? If legal technique is what it takes to find out pertinent information, about AL-Qadia I'm all for it. If we must "torture" one terrorist to save 1,000 lives how could you make an objection?
Panetta's lack of CIA experience, thin resume, and inability to bend on his radical torture beliefs make him not only unfit for such a position, yet continue to show us how our future president will operate.
We've all heard the saying, I'd venture to say we've all said it. "You're acting like a two year old".  You know, we use the phrase to chastise an adult or someone older who is just being unreasonable and extreme because they want their way.  This childish attribute can and should be attributed to some of our "esteemed leadership"  in the democratic party.
Recently as I'm sure you're aware Gov.Blagojevich from Illinois was caught on tape and 'allegedly' playing deal or no deal with the vacated senate seat of Barrack Obama. When negotiations apparently didn't go well he was recorded as saying.  "Distinguished sir, I'm grieved that our conversation did not yield a positive outcome at this time, perhaps we can schedule another meeting at a later date. As Governor my interest  and charge from the people is to serve their interests, so please understand that I shall continue my search for a qualified person who will provide integrity and honor for this most distinguished position". Well maybe, in a parallel universe. No what was recorded was a tirade filled with expletives. He wasn't gonna just give the (bleeping) thing away for free. He even managed to 'apparently'  say (bleep) him, meaning Barrack Obama himself. Imagine that, a liberal democrat who worked side by side with our next president and who was even endorsed by him cursing and throwing a fit because he wasn't getting his way. Wow I'm so glad the liberals are bringing back ethics and morals to American politics.
Well if that isn't enough, the saga does continue. Besmirched, accused and found with both hands in the cookie jar and his foot on the rim. Blagojevich wasn't done. (his face hasn't turned blue yet)  Amidst calls for removal from the highest ranking democrats  good old moral minded Blago took it upon himself to appoint a replacement. No legal proceedings (not illegal either,he does have the power as Governor) no approval from those who should have a say. No, he was doing it and all others be damned.
Well just who did he appoint? Former state attorney Roland Burris. Well with such a distinguished title you might expect that finally, we can have a bit of  sanity right?  Sadly, no. Mr. Burris has since paraded about vaunting himself and declaring in speech after speech that "I am the Jr. senator from Illinois". In one audio clip I heard he sounded eerily like the infamous Rev.Wright. You remember him, "God damn America", yeah that one. Now even though democratic leader Harry Reid has threatened an armed guard at the senate floor door Mr. Burris is coming to D.C. to begin his distinguished career. Does this not smack of the classic two year old defiant of his parents?
The Illinois legislature isn't quite clean either. This whole affair could have been avoided with a special election. It was in their power to do so but somewhere someone must have figured out that if they did so,perhaps a Republican could 'legitimately' win the seat. Well if they can't have it you can't either. Nana Nana boo boo.
 With this mind set so pervasive maybe it's no wonder the liberal left keeps pushing for a 'nanny' state.